As the pioneer of EV market, MIH is committed to building an open electric vehicle platform, but also encouraging and gathering partners to promote sustainability and implement innovation through Working Groups, Interest Groups, Community Activity operations and other mechanisms. MIH will cooperate with industry partners and start-up teams in more new fields, meet more challenges and embrace new opportunities, and welcome more
Contribution Members
and
Registered Members
to join the Interest Group.
So, in 2022, MIH launched the first batch of three Interest Groups, covering carbon neutrality " Team Net-Zero", global mobile communication "Team Global Connectivity", and the possibility of developing future vehicle in Web3 scenarios with blockchain technology "Team Web3 in EV", which have received widespread attention in the industry.
The following are the provisions of the MIH Interest Groups charter that invites members to participate.
Process of joining the Interest Groups
If a Registered Member is interested in joining an existing group or starting a new group, please fill out the application form to join or suggest a new MIH Interest Group.
If you are a Registered Member of an existing group, we will contact you after an initial discussion with the group members.
If the new group reaches 3~5 interested members, the committee will meet with the interested members.
Contribution Members can nominate themselves as the chair of the group, but need to propose a group charter and get support from other members.
The committee will approve the final group charter and appoint the group chair.
Interest Groups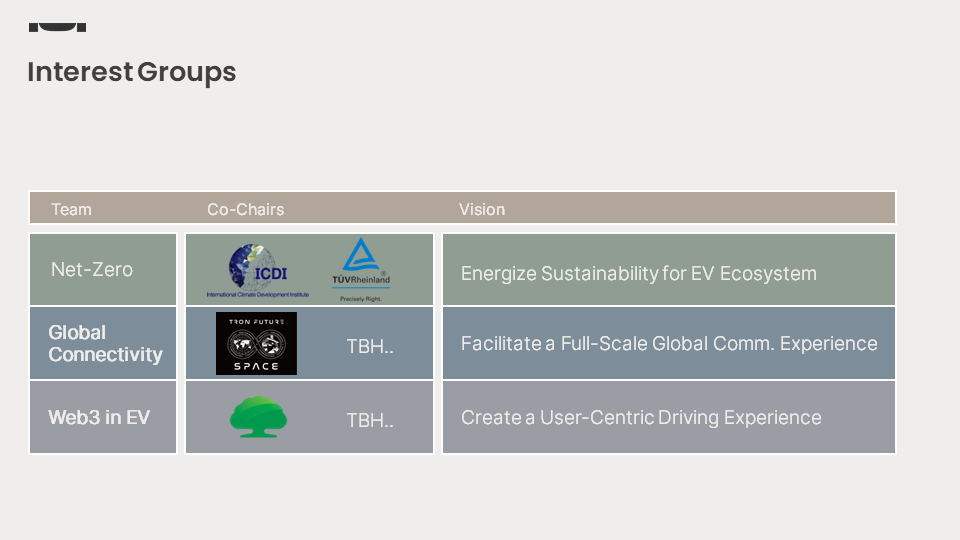 Mobilizing EV Innovation for Global Sustainability by Climate Governance and Carbon Management
Facilitate a Full-Scale Global Communacation Experience
Explore the possibilities of Web3 beyond in EV ecosystem